JetControl saftey products for personal watercrafts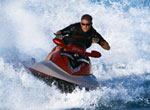 JetControl products were initially developed for the jet ski rental market and have proven their effectiveness over the years. Since then, this safety solution for the personal watercraft market has become a requirement for the jet ski rental operators in a number of European countries.
The system consists of JetBox units which are installed in the personal watercrafts and either a HandBox or MiniBox control units that are used to control the jet skis from the shore. In addition, we have developed the BoosterBox, to increase the system's range to meet the extreme requirement of the long-range operators.
JetControl's reputation is built on the quality of its products. The products robustness, reliability and functionality have made them a favourite among rental operators, who understand the extreme conditions of long operational hours in salt water. Some of our customers who bought our first generation of products in 1998 still use them today. We make our products easy to install, use and operate; our philosophy - "plug and play". This is to ensure that installation into any type of watercraft should not take more than 30 seconds and does not require any tools.
Our customers regularly asked us if the professional rental system could be used to control a teenage son. Of course it was possible, but it was a bit of an overkill. So, we designed a family system that is ideal for those who want to make sure their children (or parents!) behave when riding. We took our professional system, removed some of the business functionality that only professionals need, while keeping the same technology and materials.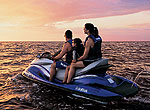 The solution: The MiniBox, is the control unit, and with the JetBox, which follows the same installation into the personal watercraft. The installation is quick and simple: 30 seconds, no tools required. Operating the system is even easier Mini Box and JetBox are pre-programmed to recognise each other, so you are ready to go right away. This product is so simple it does not need a users' manual. We wish other gadgets were this easy.
With the new introduction of the MiniBox, JetControl has offered families and individual jet ski owners control over their personal watercrafts while enjoying the excitement of the sport with family and friends.